Aurora RPM Towing & Recovery
Searching for towing and recovery services in Aurora, CO? Look no further! Contact Aurora RPM Towing & Recovery, your specialists in small, medium, and heavy-duty towing and recovery services!
Book your service appointment today!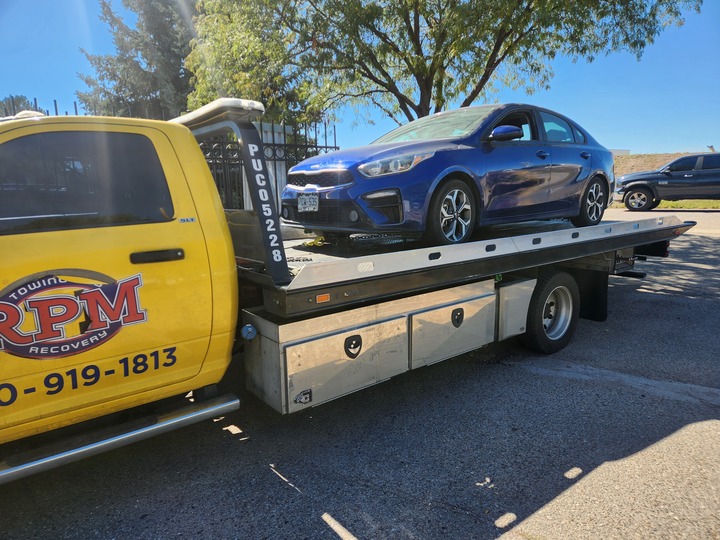 Somebody to answer your call 24/7
Jumpstarts
When your vehicle needs a jumpstart, count on Aurora RPM Towing & Recovery for reliable assistance. Our team is here to provide prompt and efficient jumpstart services. Contact us today for assistance with your vehicle's battery needs.
Lockouts
Locked out of your vehicle? Aurora RPM Towing & Recovery is here to help! Our dependable lockout services ensure a quick and hassle-free solution. Contact us now for efficient assistance with your lockout situation.
Truck Towing
Require truck towing services? Look no further than Aurora RPM Towing & Recovery! Our reliable and efficient towing solutions ensure a safe transport for your truck. Contact us today for prompt and professional truck towing assistance.
Motorcycle Towing
In need of motorcycle towing services? Choose Aurora RPM Towing & Recovery for reliable assistance! Our team is experienced in handling motorcycles with care and ensuring their safe transport. Contact us now for prompt and professional motorcycle towing solutions.
Emergency EV Charging
Facing an emergency EV charging situation? Count on Aurora RPM Towing & Recovery for swift assistance! Our team is equipped to provide efficient emergency EV charging services, ensuring you get back on the road with minimal delay. Contact us now for reliable and prompt EV charging solutions.
Cheap Towing
Looking for affordable towing services? Look no further! Aurora RPM Towing & Recovery offers budget-friendly towing solutions without compromising on quality. Trust us for reliable and cost-effective towing assistance. Contact us today for affordable towing services you can rely on.
Heavy-Duty Towing
Aurora RPM Towing & Recovery specializes in providing reliable and professional heavy-duty towing services. Their experienced team and well-equipped fleet ensure safe and efficient transportation for even the largest vehicles, making them a go-to choice for any heavy-duty towing needs.
We're happy to demonstrate our ability to offer efficient, swift, and trustworthy service.
Aurora RPM Towing & Recovery: Bringing You Back on the Road to Safety, Anytime and Anywhere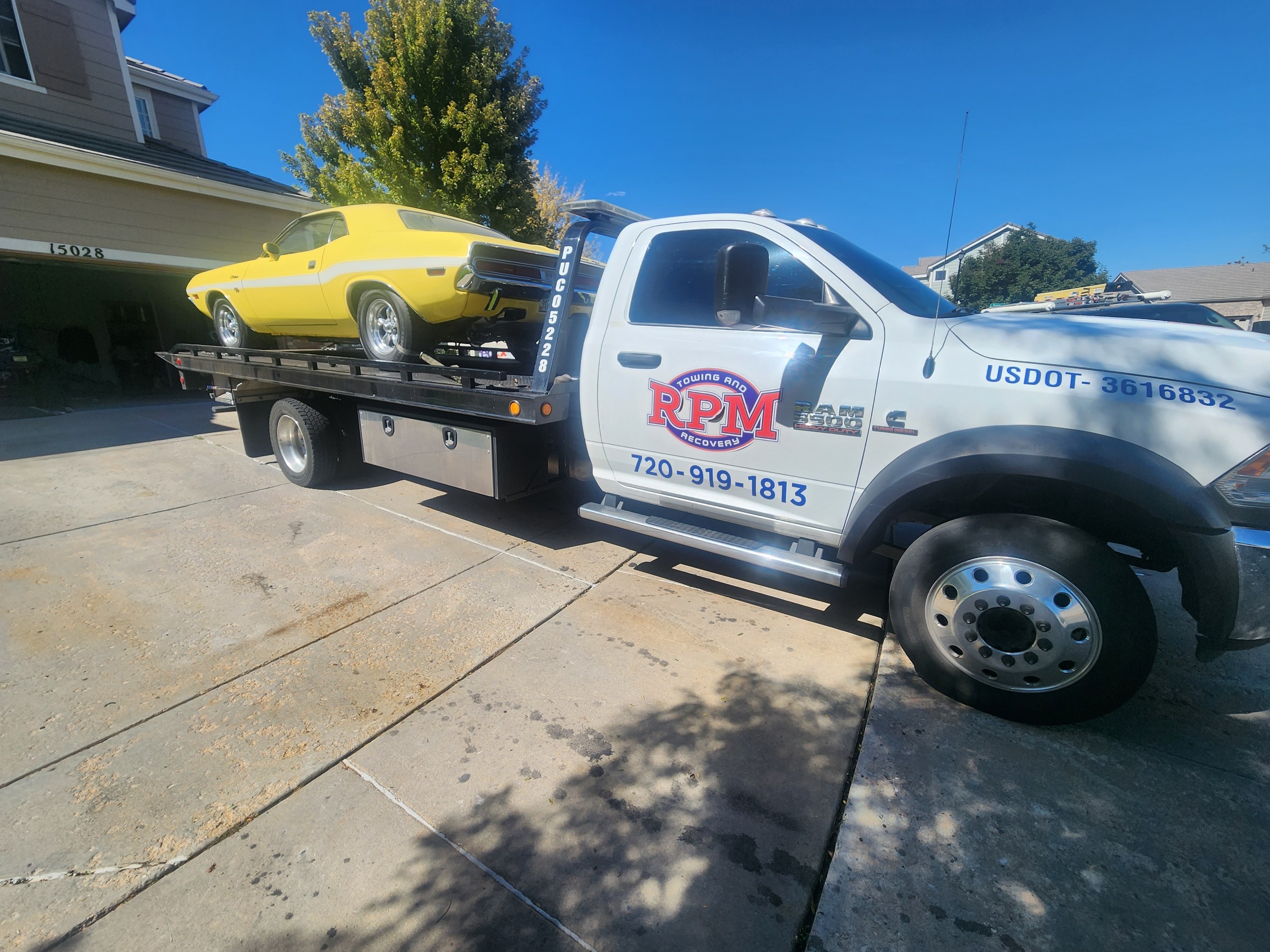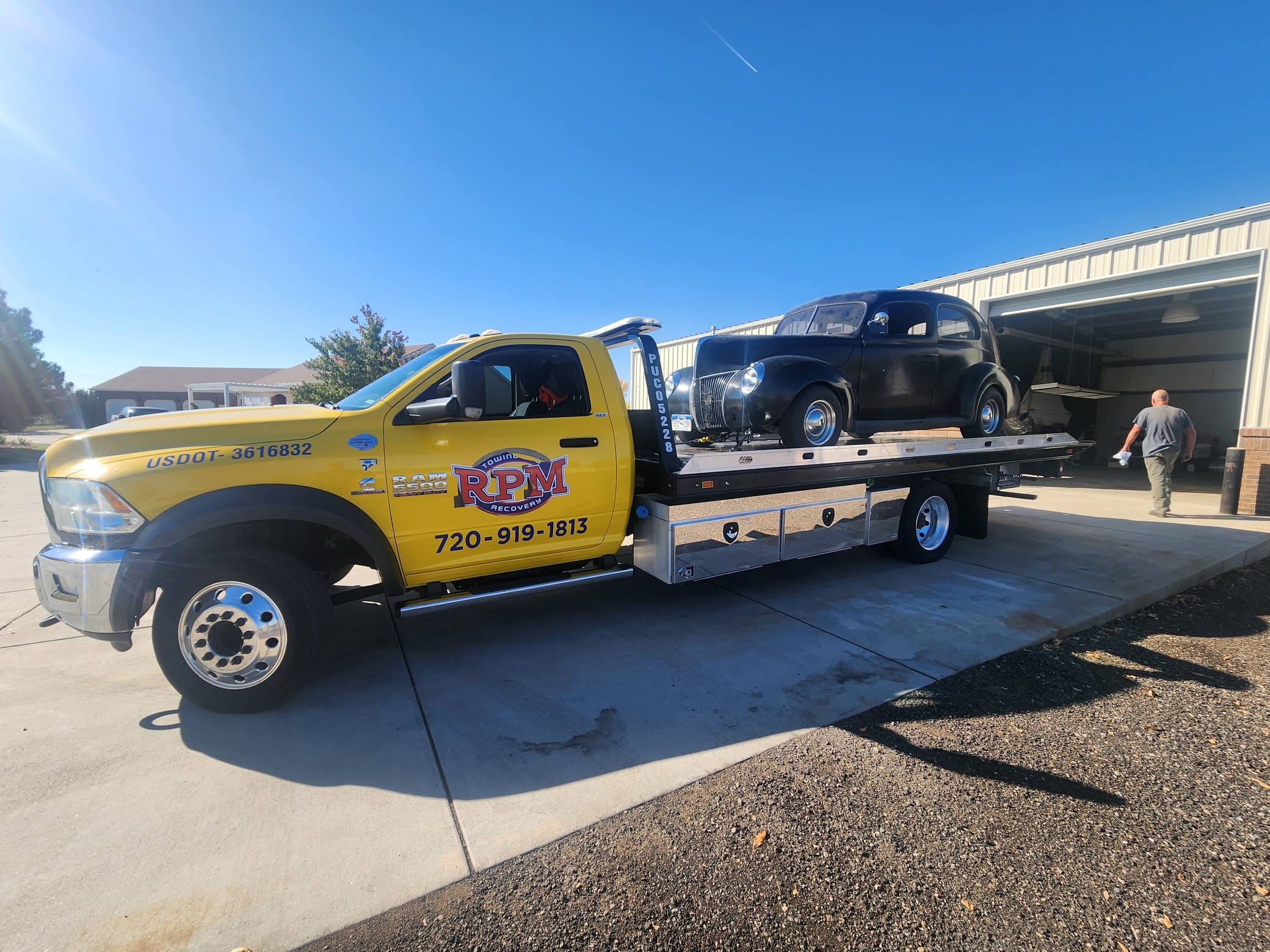 Are you in need of a reliable and trustworthy towing service in the Aurora, Colorado area? Look no further than Aurora RPM Towing & Recovery, the premier provider for all your towing needs. With a reputation for reliable, precise, and budget-friendly service, Aurora RPM Towing & Recovery is equipped to handle a wide range of vehicles, including cars, trucks, motorcycles, and even large vehicles like big rigs. Our skilled staff is dedicated to providing the best possible care for your vehicle while it's in our hands.
One of our key features is our 24/7 emergency roadside service, ensuring that you get the assistance you need promptly during times of distress. Our expert drivers are not only highly skilled but also knowledgeable in safely and efficiently handle even the most complex tow requests. We take pride in delivering reliable service while providing an excellent customer experience.
We also do heavy duty towing. The really big jobs require really big equipment, plus the men who know how to handle it. It's all right here at Aurora RPM Towing & Recovery. Our team can easily handle:

Motorhome towing

Heavy duty towing

RV towing

Recreational vehicle towing

Motorhome transport

Professional motorhome towing

Emergency motorhome towing

Motorhome relocation

Semi-truck towing

Heavy-duty towing

Tractor-trailer towing

Commercial truck towing

Big rig towing

Emergency truck towing

Commercial vehicle towing



There is no better place to call for heavy duty towing than Aurora RPM Towing & Recovery. We always deliver reliable service while providing an excellent customer experience.
Aurora RPM Towing & Recovery specializes in professional heavy-duty towing services, catering to a wide range of vehicles including motorhomes, RVs, and tractor-trailers. Our team is well-equipped and experienced in motorhome towing, RV towing, and motorhome relocation, ensuring the utmost care and efficiency throughout the process. 
Aurora RPM Towing & Recovery: (303) 731-3863.
Towing and Recovery in Aurora, CO
When faced with a vehicular emergency, count on Aurora RPM Towing & Recovery for assistance. Our team of skilled and experienced professionals is equipped to handle any job with efficiency, precision, and safety as our top priorities. Here's an overview of the services we offer:
Hook-and-chain towing:

Our fleet of service trucks, including wreckers, flatbeds, and integrated tow trucks, can handle just about any kind of vehicle on the road. So don't worry about how difficult your situation seems to be, because chances are, we've got the solution.

Winching:

Our skilled technicians utilize advanced techniques and equipment to safely rescue your vehicle from a tough situation, keeping safety as our top priority.

Wrecker Service:

Our wrecker service is used mostly at the scene of an accident. Our powerful winches and specialized towing equipment ensure that your vehicle never gets left behind.

Lockout Service:

We know just how to help a motorist locked out of his or her car. Give us a call when the need arises.

Fuel Delivery:

Did your gas gauge hit the "E"? Don't worry about it—call us and we'll be right there with the right kind of fuel for your vehicle.

Emergency EV towing:

Elon Musk can't solve all the world's problems. Sometimes an EV needs a good towing service like ours to get the car to a charging station.
Rest assured that Aurora RPM Towing & Recovery is here to provide you with prompt and reliable assistance in any vehicular emergency. Our skilled team is prepared to handle emergencies of any size or type, from towing and winching to wrecker service, lockout assistance, and even fuel delivery if needed. When unexpected situations arise on the road, you can count on us for dependable support.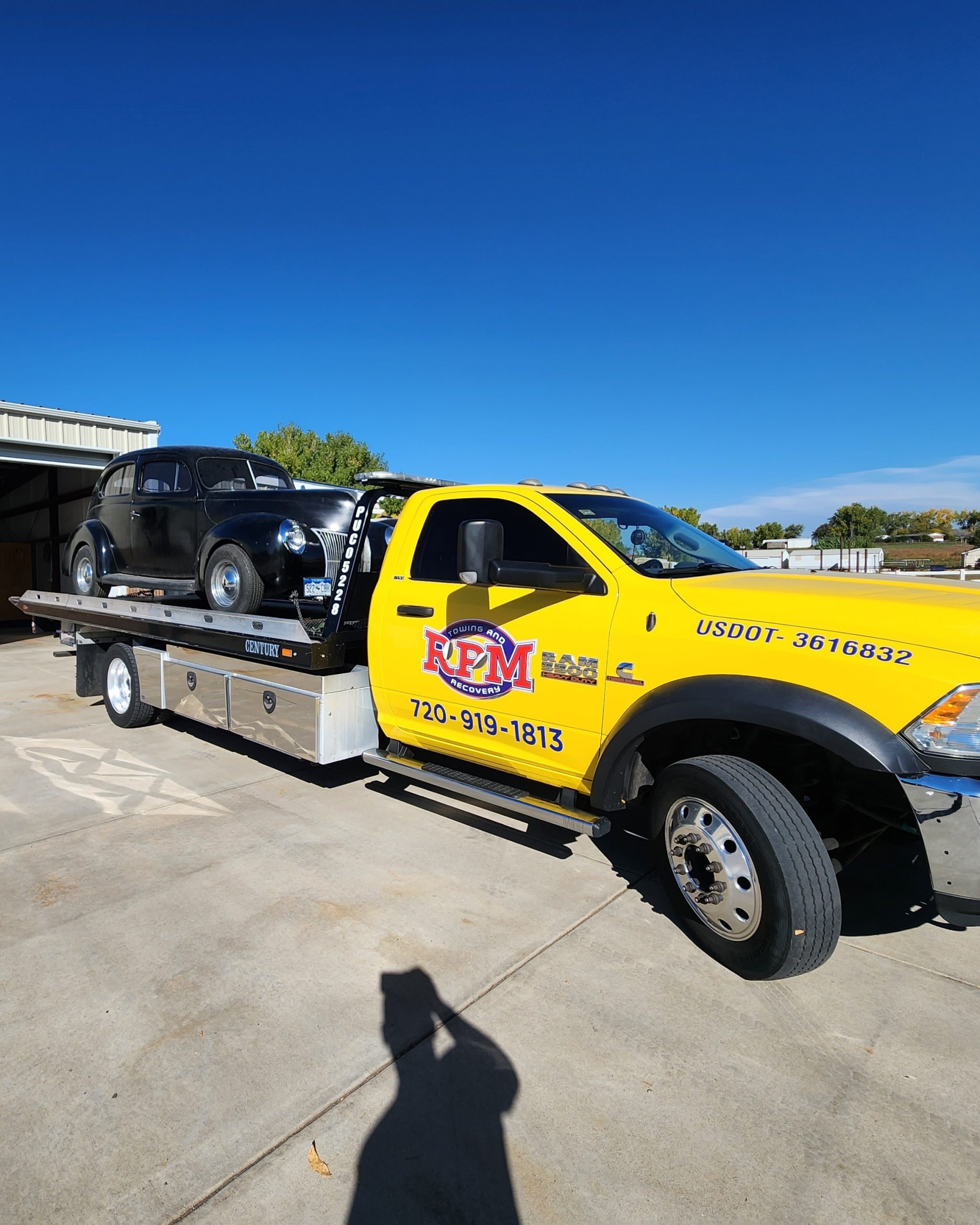 When Is It Time To Call For A Tow?
If you find yourself in a challenging situation and need towing assistance, you can rely on Aurora RPM Towing & Recovery. We understand that unexpected circumstances can arise, and our skilled tow truck team is here to help. We offer a wide range of services to address various scenarios, and here are just a few examples of the common situations we assist with: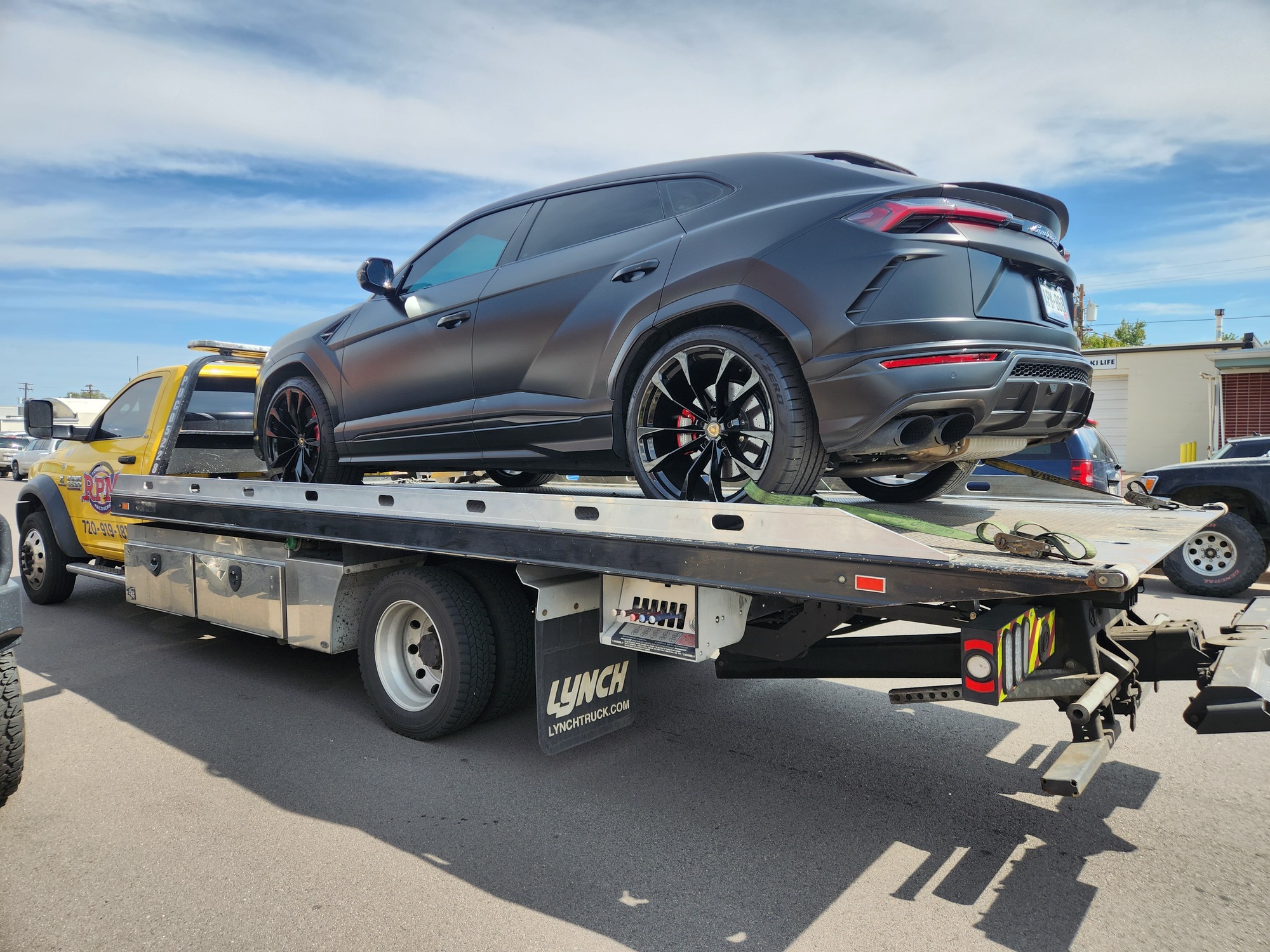 Engine Failure: Not every day can be perfect. When your vehicle's engine fails, well, the day may appear shot at first. But just give us a call and we'll help you turn things around.

Getting Stuck: To quote McCartney—the road is long, with many a winding turn. Along with a few mud pits and ditches. If you ever get your vehicle stuck, give us a call and we'll come a-running.

Locking Your Keys Out of Your Car: Yes, this happens. More than you think. And we have every solution in our bag of tricks to make it "unhappen". Dial our number.

All Out Of Gas: We do fuel delivery across three counties. If you ever find yourself out of gas—or in need of a charge for your EV—press that little "call" button on your phone and you've got our help.

You've Been In An Accident: Our wreckers can clean up accident debris plus get your car to a safe place, such as a service garage or even your driveway. Sit down, relax, and call us up. We've got your back.
When you're facing an emergency, Aurora RPM Towing & Recovery is the perfect partner to rely on. We offer reliable and prompt towing services for a wide range of scenarios, including engine problems, running out of gas, lockouts, or auto accidents. Our tow trucks are always ready to respond when you need them the most. With us by your side, you can have peace of mind knowing that your vehicle will be safely taken care of and brought back home.
Aurora RPM Towing & Recovery: (303) 731-3863.
What Happens When You Call?
When you call our number, you can expect prompt and professional service from our team at Aurora RPM Towing & Recovery. You won't be dealing with distracted or unprepared individuals. Our attentive and understanding professionals are ready to assist you without delay.
When you reach out to us for help, our friendly experts will take the time to gather all the vital details about your location, the issue at hand, and the type of vehicle involved. This information is crucial in ensuring that we dispatch the right equipment and driver as quickly as possible for maximum efficiency.
Once we have the essential details, one of our highly experienced drivers will be dispatched to your location within minutes. Our drivers have a deep understanding of the entire area, much like Payton Manning knew how to win us the Superbowl, and they use this expertise to swiftly and cautiously reach your location.
Upon arrival, our courteous driver will assess the situation and determine the best approach to safely secure you and your vehicle. Whether it's a simple jump-start or a more complex towing operation, our team has the experience and tools needed for a successful outcome. With us by your side, you can trust that any trouble will be promptly taken care of.
When you need assistance, our reliable team of specialists will gather critical information about your location, vehicle type, and situation. We'll then dispatch a highly qualified driver to your location in minutes, who will carefully evaluate the scenario and plan the most suitable course of action to get you and your vehicle to safety. Count on us to help you get back home safely today.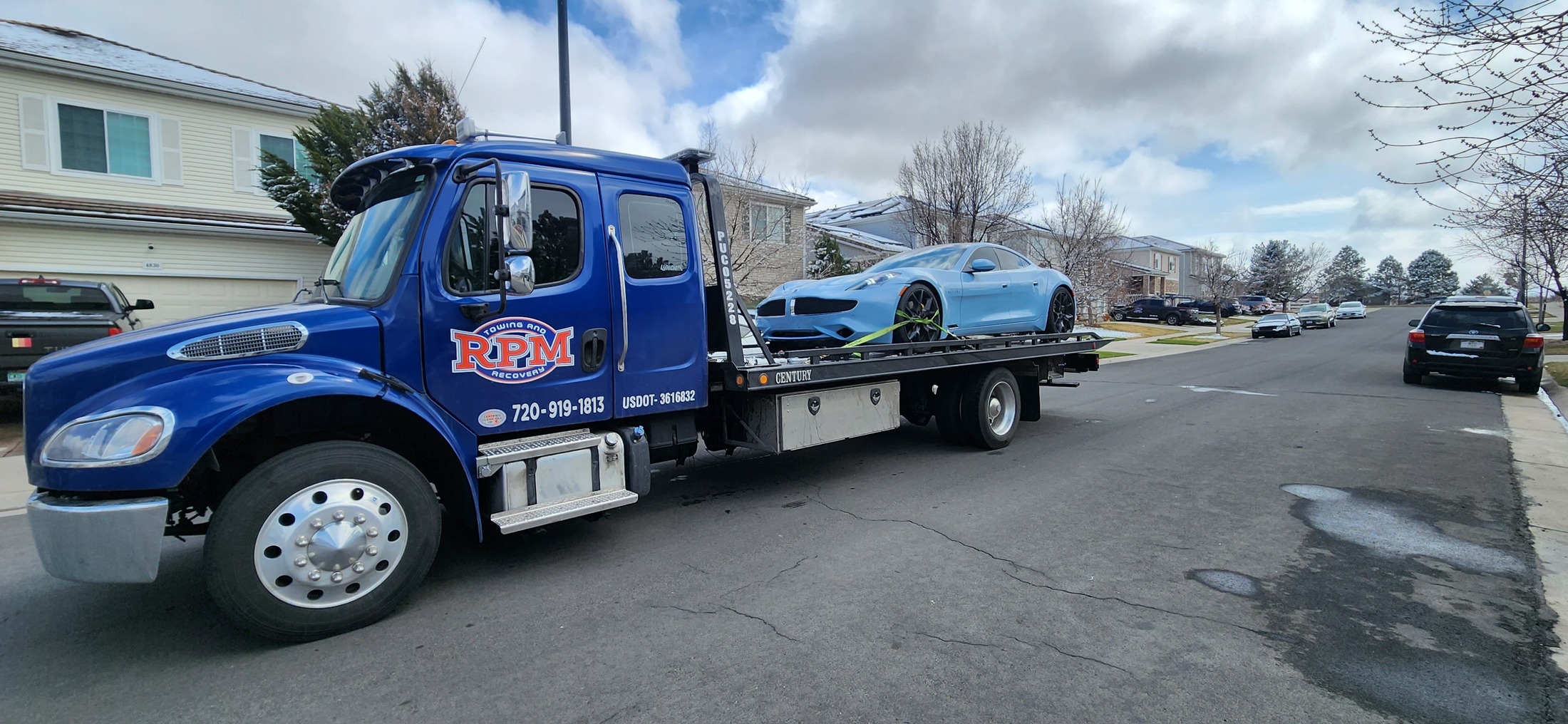 Aurora is just the beginning! Our trucks provide protection and safety across all of Arapahoe, Adams, and Douglas County. Some of the locations we've proudly served include:

Aurora

Centennial

Littleton

Englewood

Greenwood Village

Cherry Hills Village

Foxfield

Deer Trail

Bennett

Bow Mar

Denver

Thornton

Westminster

Commerce City

Brighton

Northglenn

Federal Heights

Strasburg

Bennett

Watkins

Castle Rock

Parker

Highlands Ranch

Lone Tree

Larkspur

Sedalia

Franktown

Roxborough Park

Louviers

Castle Pines



Why bother searching for another towing company when you can simply give us a call? But why choose us? Because we are the best in town, offering our customers unparalleled service. Our dependable team is dedicated to delivering fast, efficient, and affordable solutions that cater to all your needs.
A Great Staff Ready To Lend A Hand
When you reach out to us for assistance, you can expect to speak with a friendly dispatcher who will take down all of your information with care and professionalism. Our dispatch team is well-trained and experienced, ensuring that they gather all the necessary details about your location, issue at hand, and vehicle type accurately and efficiently.
Once your information is collected, our team springs into action immediately. We understand the urgency of your situation and are committed to providing prompt and reliable service. Our skilled drivers are dispatched promptly to your location, equipped with the right gear and tools for the job. You can trust that we will prioritize your needs and send help right away.
We know our customers need help fast, and our courteous and efficient staff always gets right on the case. We strive to provide the best possible experience for our customers, from the initial phone call to the resolution of your vehicle emergency. Count on us to handle your towing needs with professionalism, courtesy, and efficiency.
Let Us Help Your and Your Truck
24/7 Roadside Assistance
At Aurora RPM Towing & Recovery, our drivers are well-versed in the area and are on call 24 hours a day, 7 days a week. We understand that accidents and emergencies can happen at any time, and our team is always ready to respond promptly to your call for assistance. Our drivers are highly experienced and knowledgeable about the roads, routes, and local conditions in and around Lafayette, Colorado.
Expert Services
When you need towing or recovery services, you can rely on our drivers to arrive quickly and safely at your location. They are well-equipped with the latest tools, equipment, and expertise to handle any towing or recovery situation efficiently and effectively. Our drivers are trained to assess the situation, make sound decisions, and implement the best course of action to ensure the safety of you and your vehicle.
Excellent Customer Service
We take pride in our commitment to providing reliable and responsive service, and our drivers are a key part of that commitment. With their local knowledge and round-the-clock availability, you can trust that our drivers will be there for you whenever you need us, ensuring that accidents don't disrupt your peace of mind.