If you're looking for reliable and high-quality truck towing service in the Aurora vicinity, call Aurora RPM Towing & Recovery. Our certified operators are accessible 24/7 and possess the experience and expertise to manage all types and sizes of trucks, including semis, dump trucks, and pickups. We have been serving the commercial vehicle hauling industry for several years and are dedicated to providing you with the best possible service.
We understand the inconvenience and stress that truck breakdowns can cause on busy roads, which is why we prioritize prompt and dependable service. Our objective is to have your truck back on the road as quickly as possible and reduce any disruptions to your schedule. Whether you require assistance with an empty gas tank, faulty battery, or dead engine, our skilled drivers are always prepared to lend a hand.
At Aurora RPM Towing & Recovery, customer satisfaction is our primary concern, and we offer cost-effective and trustworthy service around the clock. Select us for all your truck towing needs and encounter the convenience of unparalleled service at an unbeatable cost. Call us today at (303) 731-3863!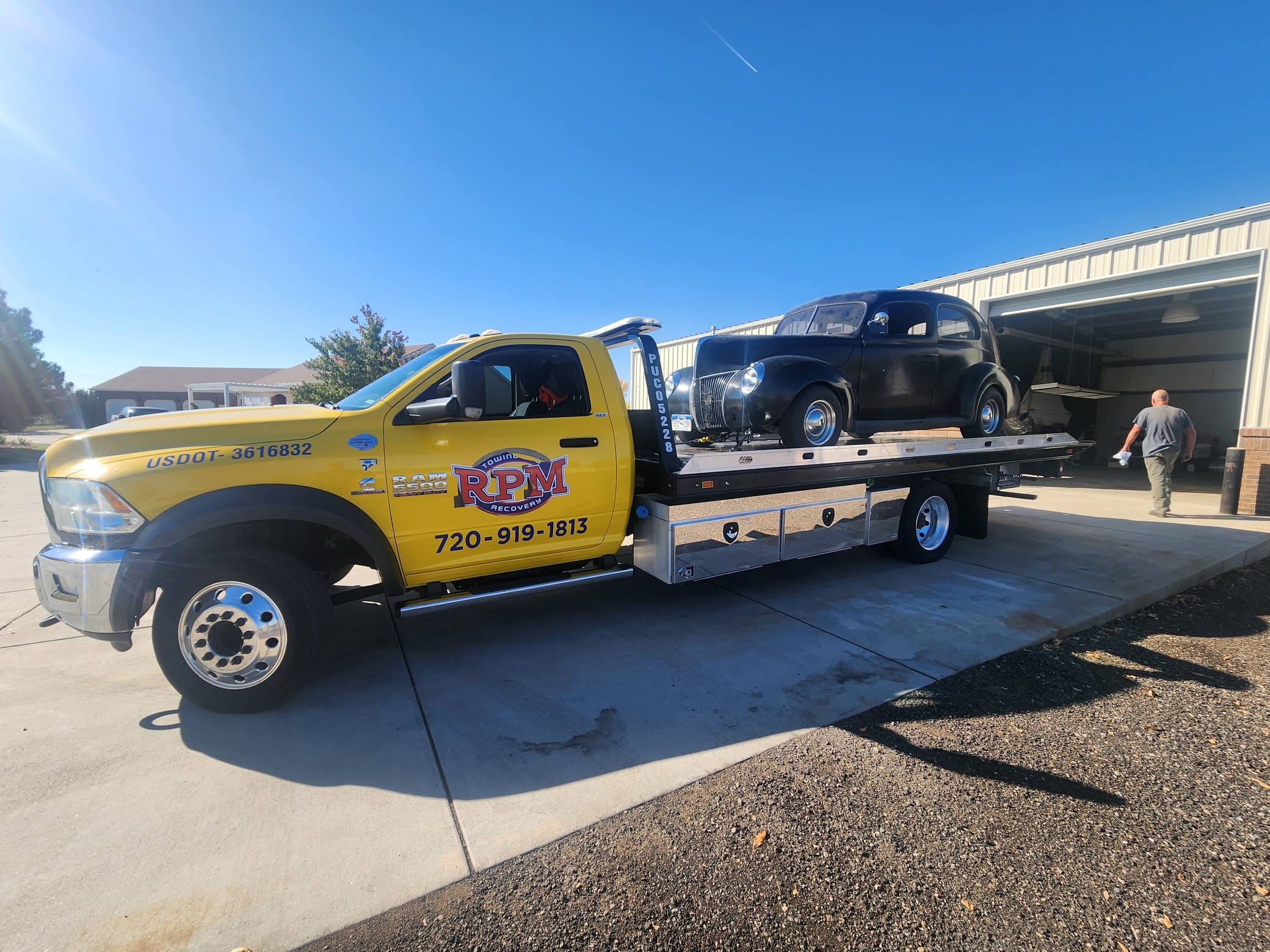 From Light Trucks To Industrial Beasts
At Aurora RPM Towing & Recovery, we provide secure and reliable towing services for vehicles of all sizes and weights, using specialized equipment operated by highly skilled professionals. Our hook-and-chain trucks are equipped with hydraulic boom winches and chains that ensure secure handling during transportation.
For a more secure and protective towing solution, we highly recommend our flatbed trucks, which come with hydraulic ramps that make it easy to load vehicles with damaged axles and wheels, while larger vehicles are safely suspended during transportation. Our flatbed towing services are ideal for those in need of a dependable solution for transporting their vehicles.
If you require truck towing services in our area, Aurora RPM Towing & Recovery is your best bet. Our trained operators and advanced equipment are capable of handling even the largest vehicles, including integrated towing for the biggest rigs. We use state-of-the-art technology to transport your vehicle safely and efficiently to your desired location, giving you peace of mind. Our commitment to providing top-quality industrial transportation services in the area ensures that we always meet your needs. Don't hesitate to contact us today to schedule a pickup.
Truck Towing For Three Counties
At Aurora RPM Towing & Recovery, we prioritize tailoring our customer service to meet your specific needs.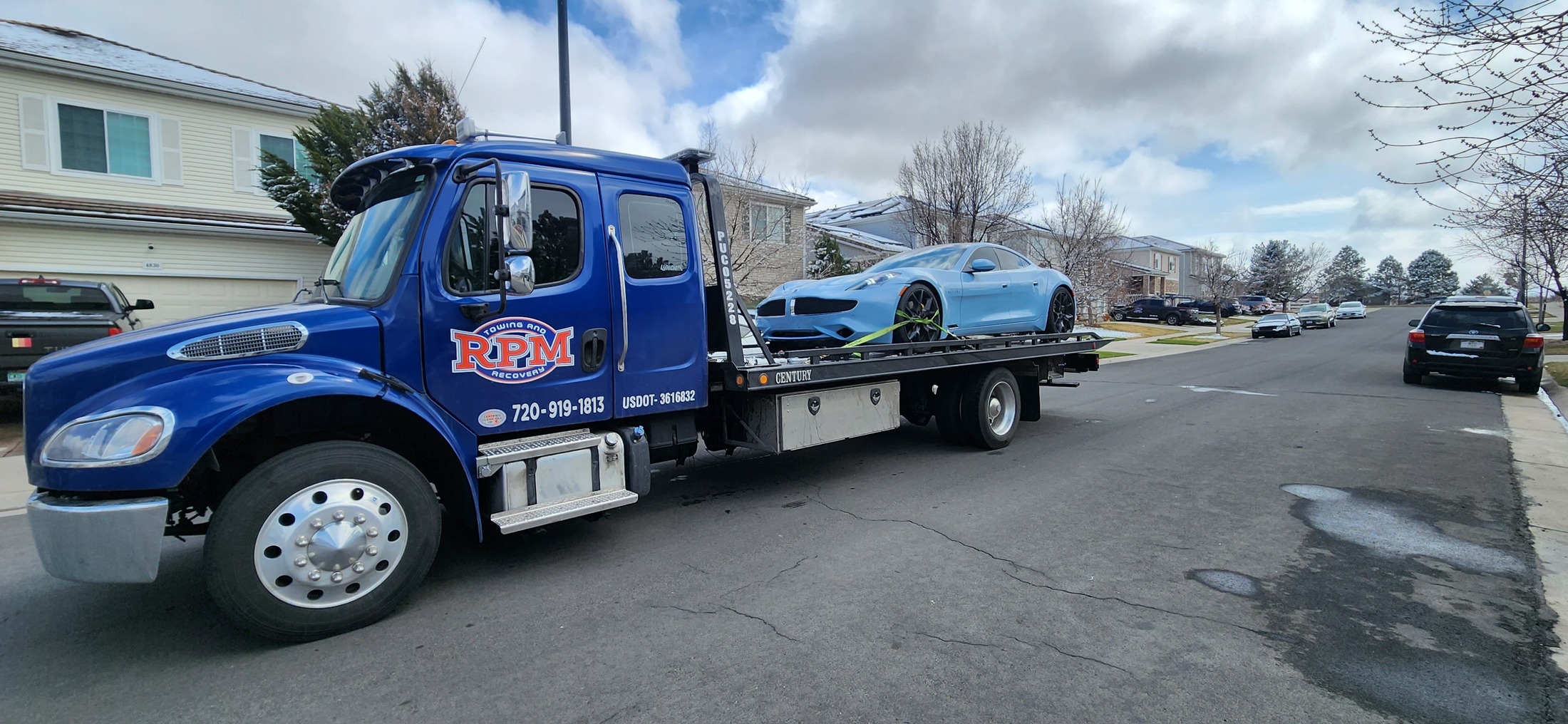 Whether you require cheap towing, fuel delivery, or a jumpstart, our team is always available to provide dependable assistance, allowing you to quickly get back on the road. We take pride in delivering exceptional roadside assistance and strive to ensure your satisfaction with our services every time.
Integrity and customer satisfaction form the foundation of our operations. We are committed to offering trustworthy truck hauling services across the tri-county area. Our ultimate goal is to exceed every customer's expectations and consistently provide dependable service. Contact us when times get tough on the road and discover for yourself the difference our service can make.
Dial (303) 731-3863.
Aurora RPM Towing & Rcovery: Bringing You Back on the Road to Safety, Anytime and Anywhere
Aurora RPM Towing & Recovery is a trusted and dependable towing and recovery service provider serving Aurora, Colorado, and the surrounding areas. With our experienced team and modern fleet of tow trucks, we are committed to providing prompt and reliable assistance whenever you find yourself in need. Whether it's a breakdown, accident recovery, or simply transporting your vehicle to a different location, Aurora RPM Towing & Recovery is ready to lend a helping hand. Our skilled and professional drivers ensure the safe handling of your vehicle, while our 24/7 availability means we are always there when you need us the most. With a dedication to customer satisfaction and a track record of excellence, Aurora RPM Towing & Recovery is the go-to choice for all your towing and recovery needs.