Englewood, Colorado is a small but vibrant city located in Arapahoe County, just south of Denver. The city offers a mix of residential, commercial, and industrial areas, making it a hub of economic activity and a great place to live, work, and play.
One of the city's biggest attractions is the Museum of Outdoor Arts, which showcases a variety of contemporary art installations in a beautiful outdoor setting. The museum also hosts a variety of events throughout the year, including concerts and art exhibitions.
Englewood is also home to several parks and open spaces, including the popular Belleview Park, which features a miniature train ride, a petting zoo, and a playground. In addition, residents can enjoy a variety of recreational activities at the Englewood Recreation Center, which features a swimming pool, fitness center, and sports courts.
The city also boasts a thriving culinary scene, with a variety of restaurants and cafes offering everything from classic American fare to international cuisine.
Englewood is a charming and welcoming city that offers something for everyone. With its excellent amenities, convenient location, and friendly community, it's no wonder that it's becoming one of the most sought-after places to live in Colorado. Dial (303) 731-3863 now!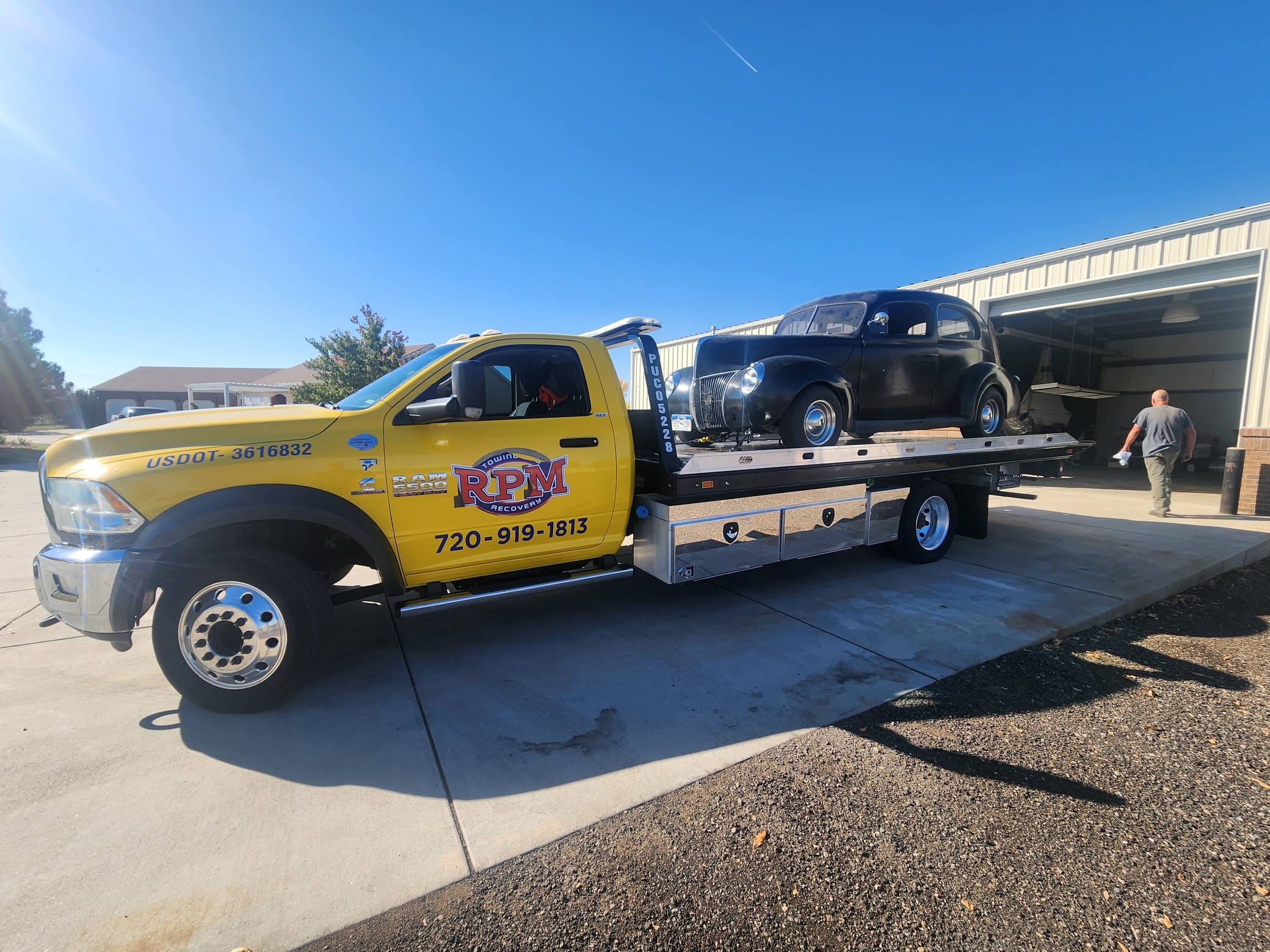 Englewood's Most Reliable Towing Service
At Aurora RPM Towing & Recovery, we're proud to serve the motorists of Englewood with friendly and reliable towing and recovery services. 
Our team of experienced and knowledgeable drivers is always on standby, ready to provide prompt and efficient service to Englewood motorists in need. We offer a wide range of services, including emergency EV charging, fuel delivery, lockout service, and towing, so no matter what your situation may be, you can count on us to provide the help you need.
Our equipment is well cared for and we are committed to doing the job right for you. Our goal is to make sure that our clients are completely satisfied with our service, and we're always looking for ways to improve our service and exceed our client's expectations.
So if you're needing towing and roadside assistance in Englewood, don't hesitate to call us—we know the way there and are always ready to help.
A Pickup Truck And A Broken Timing Belt
Art was driving his pickup truck on the east end of town near Little Dry Creek when he heard a strange noise coming from under the hood. Suddenly, his engine started to sputter and stall, and he was forced to pull over to the side of the road.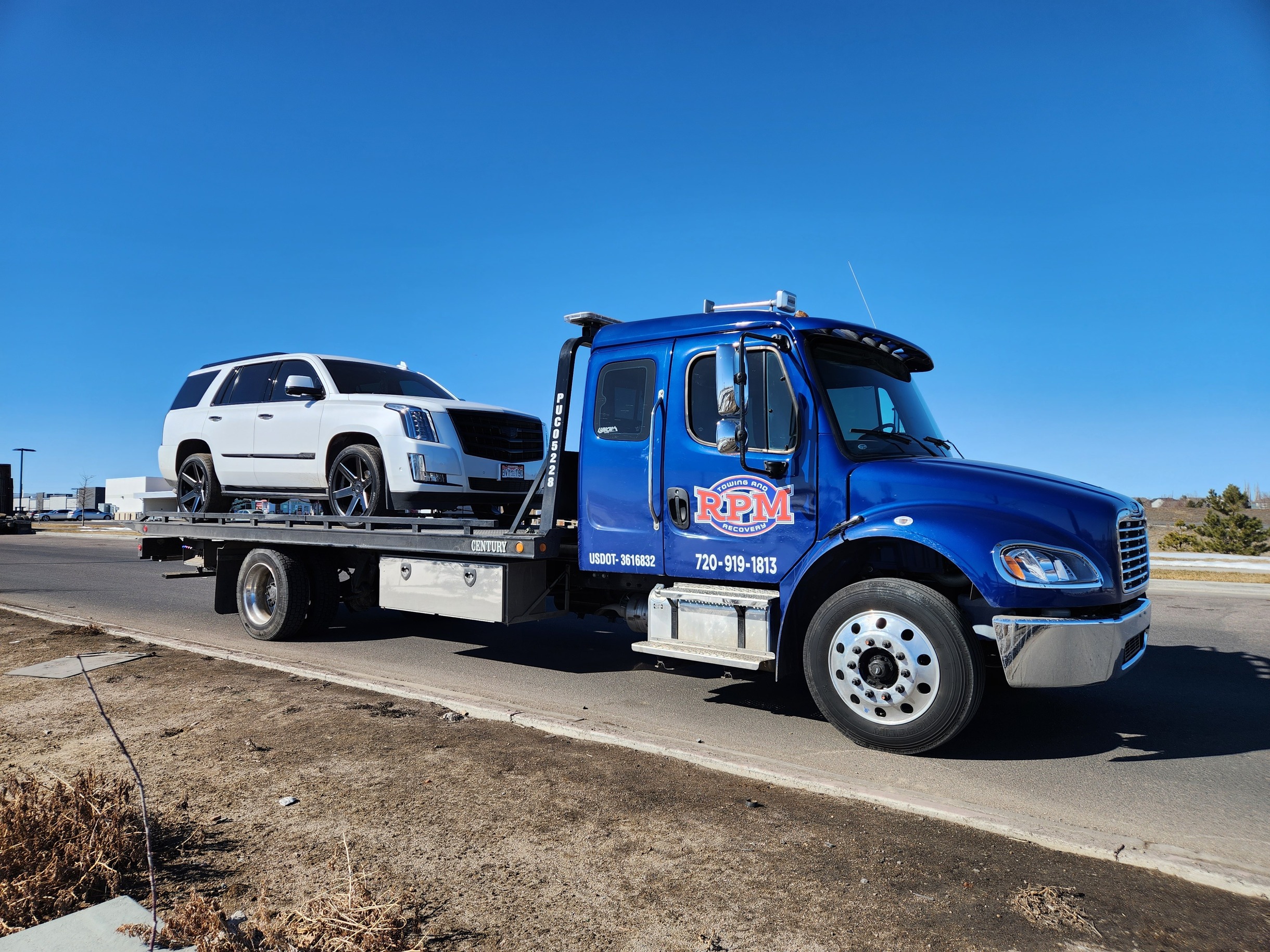 Art knew that something was seriously wrong with his truck, so he whipped out his phone and searched for a reliable towing company. That's when he found Aurora RPM Towing & Recovery.
Within minutes, our team arrived on the scene and assessed Art's situation. We quickly determined that the timing belt on his pickup truck had broken and needed to be replaced.
We loaded Art's truck onto our flatbed trailer and towed it to a reputable service station for repairs. Our team of skilled mechanics got to work replacing the timing belt and making other necessary repairs to get Art's truck back on the road as soon as possible.
Throughout the process, Art was impressed with our professionalism and expertise. He was grateful that he found a reliable towing company that could get him back on the road in no time.
This is just one of many instances where we were able to help. For roadside assistance that can't be beaten, call us by dialing (303) 731-3863.
Aurora RPM Towing & Rcovery: Bringing You Back on the Road to Safety, Anytime and Anywhere
Aurora RPM Towing & Recovery is a trusted and dependable towing and recovery service provider serving Aurora, Colorado, and the surrounding areas. With our experienced team and modern fleet of tow trucks, we are committed to providing prompt and reliable assistance whenever you find yourself in need. Whether it's a breakdown, accident recovery, or simply transporting your vehicle to a different location, Aurora RPM Towing & Recovery is ready to lend a helping hand. Our skilled and professional drivers ensure the safe handling of your vehicle, while our 24/7 availability means we are always there when you need us the most. With a dedication to customer satisfaction and a track record of excellence, Aurora RPM Towing & Recovery is the go-to choice for all your towing and recovery needs.