At Aurora RPM Towing & Recovery, we recognize that getting stranded far from home can be worrisome, especially when it comes to towing fees. That's why we aim to make things as convenient and stress-free as possible by providing clear and reasonable pricing without any hidden fees.
Our pricing model is designed to be transparent and upfront, so you won't have to worry about any unexpected charges. We are committed to delivering a seamless experience, and our team is available 24/7 to offer quick and cost-effective solutions. You can rely on us to prioritize your satisfaction and convenience.
No need to panic if you get stranded on the road. Our dispatchers are just a call away, providing reliable and high-quality towing services that are both fast and affordable. We understand how frustrating and nerve-wracking breakdowns can be, so we strive to respond swiftly and effectively to ensure your safety and get you back on the road as soon as possible.
At Aurora RPM Towing & Recovery, we believe that exceptional service shouldn't come at a high cost. That's why we offer competitive pricing without compromising on the quality of our services. Our goal is to provide you with the best value for your money, and our team is available 24/7 to assist you. Contact us today at (303) 731-3863 and experience top-quality and cheap towing services in Aurora, CO.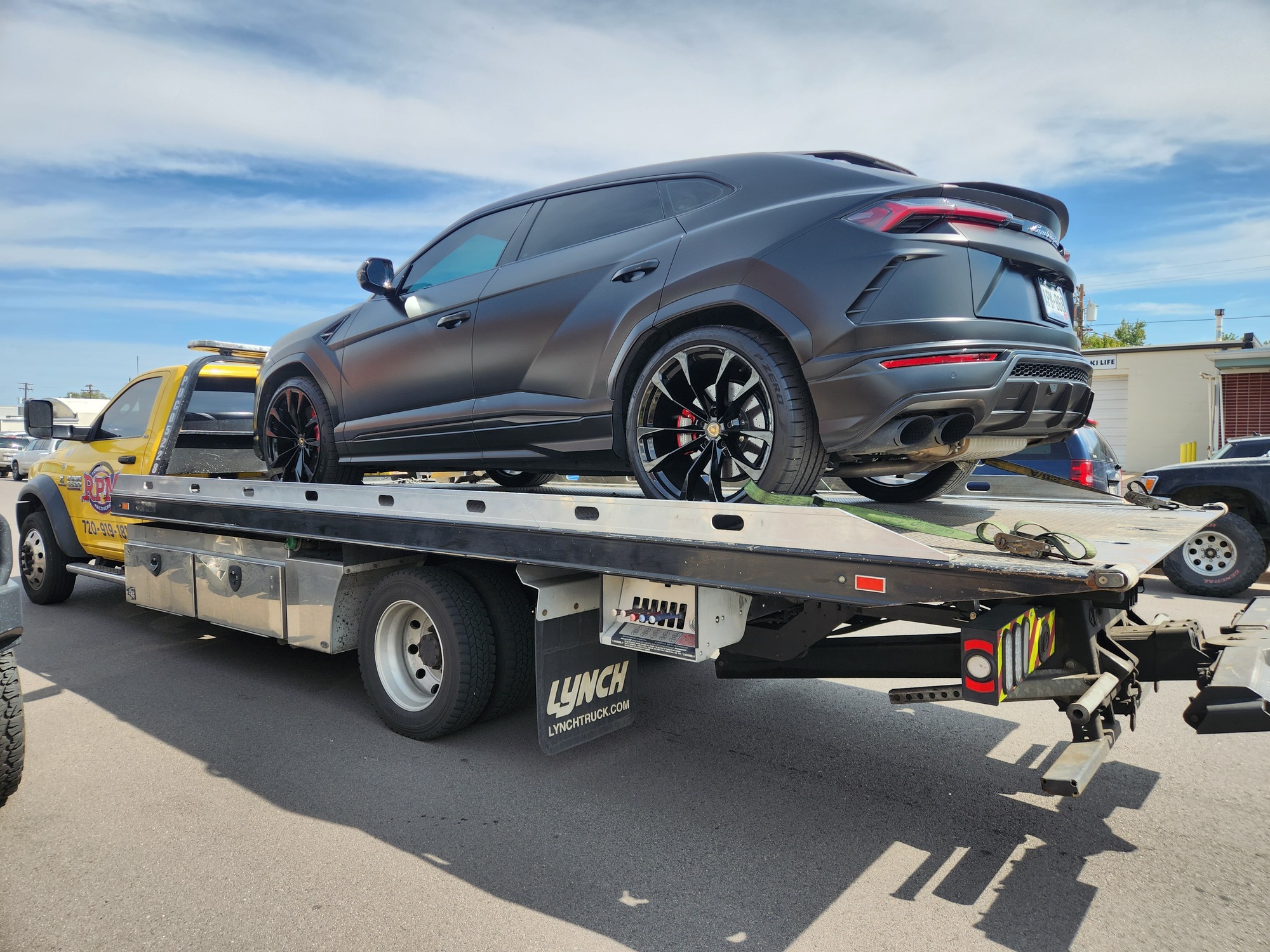 Helping Motorists Doesn't Mean Burying Them In Debt
Aurora RPM Towing & Recovery boasts a team of towing specialists who utilize state-of-the-art equipment to ensure the safe and efficient transportation of your vehicle. Our priority is your satisfaction, and we commit to providing exceptional service at an honest price, devoid of any hidden fees or surprises. We take pride in offering reliable and affordable towing solutions that you can depend on. Contact us today to experience our cost-effective and trustworthy tow truck services.
Our services are accessible 24/7 across three counties in the Aurora region, regardless of your location or the time of day. Our emergency roadside assistance guarantees a prompt response to your needs, ensuring that you receive the help you require.
When you reach out to us, we dispatch a friendly driver to your location within minutes to transport your vehicle to a reputable garage. We handle your property with the same level of care as if it were our own. Call (303) 731-3863 now!
You Can Forget About Spending Tons Of Money!
The cars we tow don't come off—even under gale-force winds!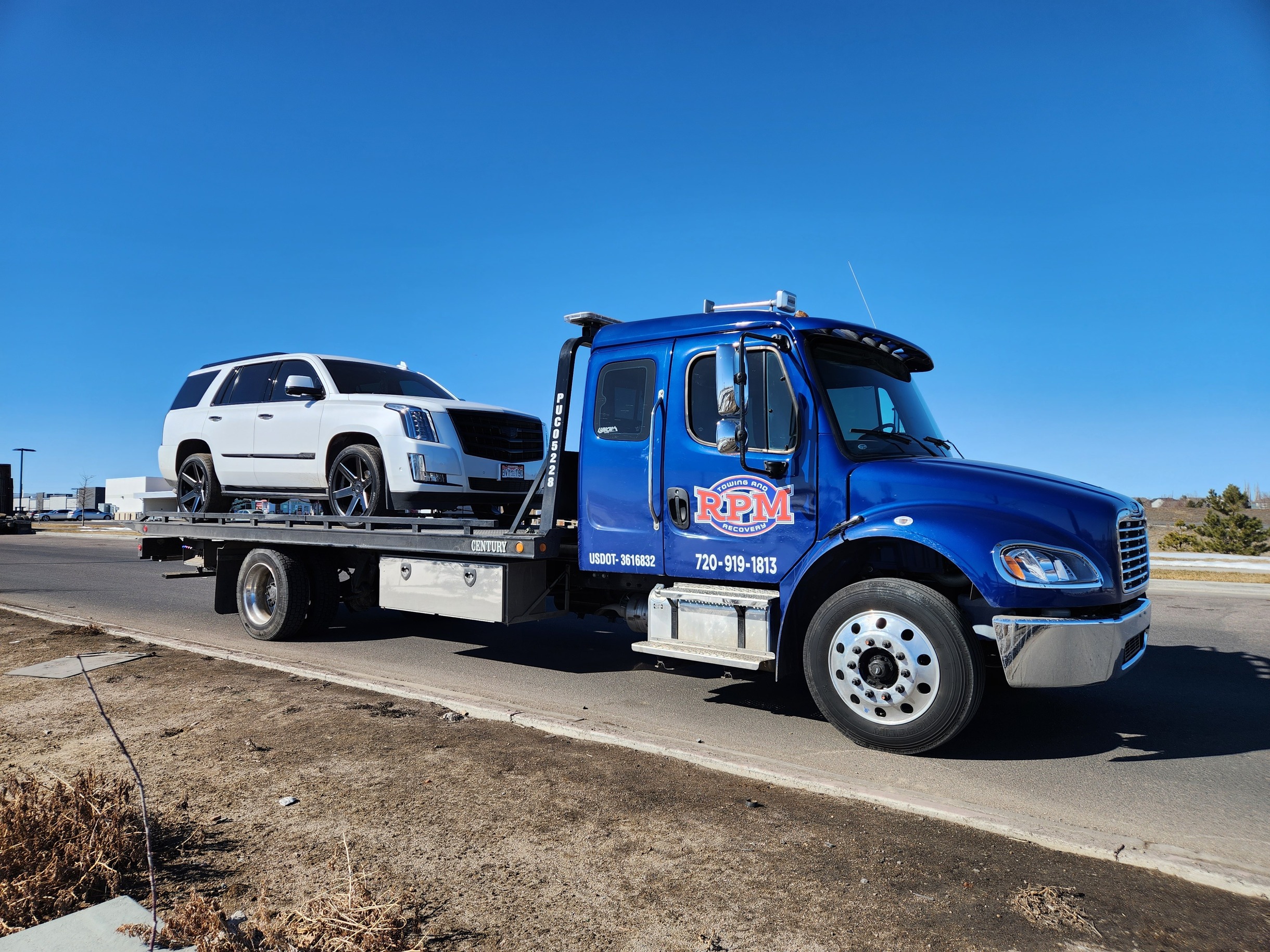 For all of your roadside emergencies, Aurora RPM Towing & Recovery is the ideal solution. We offer dependable and affordable towing services that can handle a variety of car troubles, from tire blowouts to brake issues. Our advanced vehicles and equipment allow us to deliver quick and efficient towing solutions that will have you back on the road in no time.
Our staff is available 24/7 and is knowledgeable and friendly, providing exceptional customer service and competitive rates. At Aurora RPM Towing & Recovery, we pride ourselves on providing reliable and cost-effective towing solutions that you can trust. Don't hesitate to join our satisfied customer base who rely on us for all of their towing needs.
At Aurora RPM Towing & Recovery, we know that reliable towing services are crucial in times of trouble. That's why our technicians are highly skilled and trained to guarantee that your vehicle is transported securely without any harm. Our services encompass a variety of options, including motorcycle towing, jumpstarts, emergency EV charging, to meet your specific requirements. Reach out to us today and discover our top-notch services. Let us assist you promptly and reliably in any emergency.
Dial (303) 731-3863.
Aurora RPM Towing & Rcovery: Bringing You Back on the Road to Safety, Anytime and Anywhere
Aurora RPM Towing & Recovery is a trusted and dependable towing and recovery service provider serving Aurora, Colorado, and the surrounding areas. With our experienced team and modern fleet of tow trucks, we are committed to providing prompt and reliable assistance whenever you find yourself in need. Whether it's a breakdown, accident recovery, or simply transporting your vehicle to a different location, Aurora RPM Towing & Recovery is ready to lend a helping hand. Our skilled and professional drivers ensure the safe handling of your vehicle, while our 24/7 availability means we are always there when you need us the most. With a dedication to customer satisfaction and a track record of excellence, Aurora RPM Towing & Recovery is the go-to choice for all your towing and recovery needs.